Sometimes headlines in the paper can be deceiving…
I was happy last week to bring to a positive conclusion a Robbery case that has been somewhat high-profile as outlined in the Democrat and Chronicle article below.  My client wasn't sentenced to 18 years.  Rather, he was the defendant sentenced to three years in state prison. I consider this to be an excellent outcome considering the original charges included Kidnaping in the First Degree, which if convicted would have carried a sentence of up to life in state prison.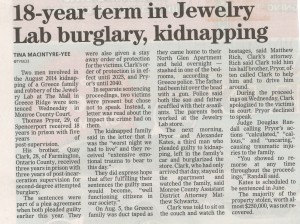 Subsequently this morning, I resolved a case involving an indicted charge of Murder in the Second Degree, another charge that if convicted can carry up to a life sentence.  I was able to secure a plea offer for my client to Criminally Negligent Homicide, a class E felony.  The anticipated sentence will be two to four years.
Success in plea negotiations are a vitally important part of considering which attorney to select.  This office will always be focused on excellence in trial practice, but oftentimes obtaining good results for clients means securing advantageous plea offers.  I'm proud to say that I was able to do just that in two very important cases here in the last week or so.
(Past outcomes are no guarantee of future results.)